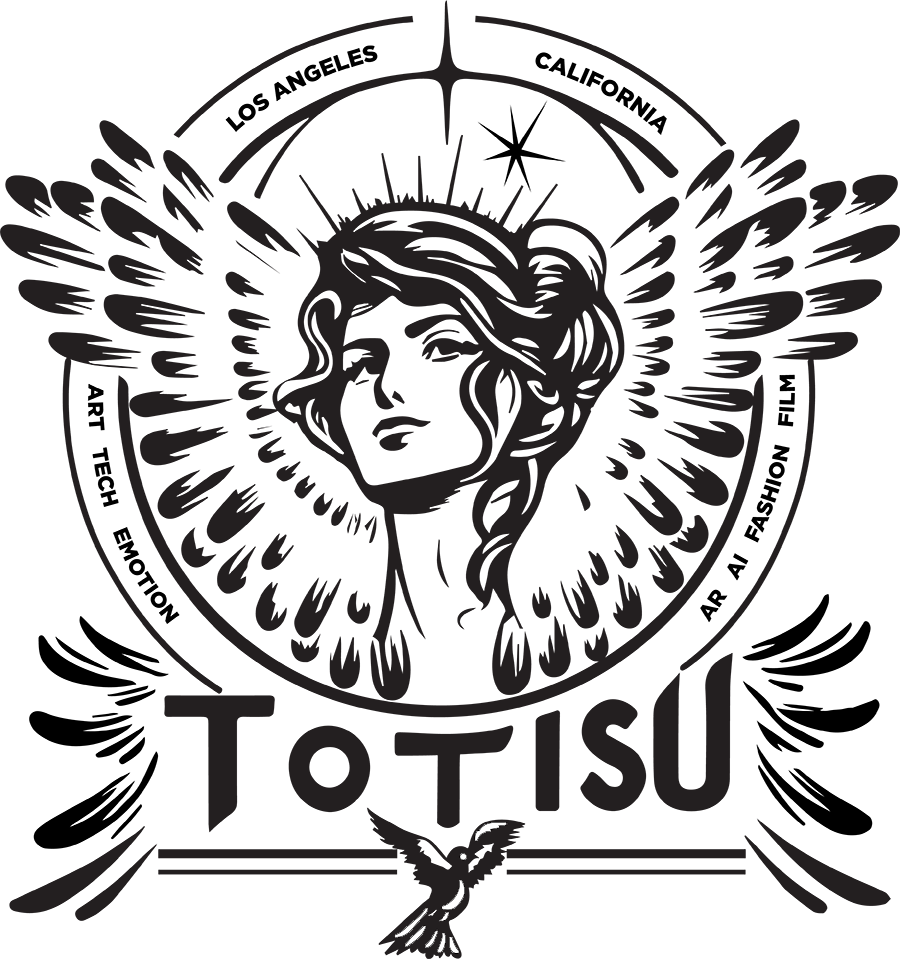 We are artists, designers, technologists and storytellers
TOTISU Studios
Art

+

Tech

+

Emotion
Our creations celebrate the richness, depth, and unique perspective of our city, Los Angeles, as well as the human experience.
Through our art, we hope to spread the message of love and understanding, and to bring people together in a shared appreciation of the beauty and complexity of the world around us.
We use a variety of mediums that incorporate cutting edge technology, fashion, and film.
From Augmented Reality immersive experiences to traditional wall hangings, we are dedicated to using our skills to enhance, engage and enliven spaces for all who experience them.
Augmented Reality
We have been creating using Augmented Reality (AR) since 2012. When experiencing one of our AR artworks, viewers can use their smartphone or other device to see digital elements superimposed over the real world in real time. These digital elements are specifically designed to enhance the immersive nature of the artwork and add an additional layer of meaning and engagement for viewers.
AR elements may include, animations, film, videos, or 3D models, as well as audio such as music or sound effects.
Custom audio and special recordings can be created for specific locations,  audiences and collectors.
Public Art Projects
Our goal with public art is to spread positive messages through entertaining, informative, and engaging works. One example is a site specific AR Installation called "Angels of LA" at Angel's Flight in DTLA. It is part of the Grand Ave Augmented experience and will be on display until 2024.
Other upcoming projects include "The I Love You Project", "An Emotional Map of Los Angeles", and "The Love Machine."
We are available for commissioned custom projects.
Digital Art
We create with a variety of digital tools, techniques and styles including:
Painting with Procreate

AI Art

Virtual Design

Virtual Painting

3D Fashion

3D Painting

3D Printing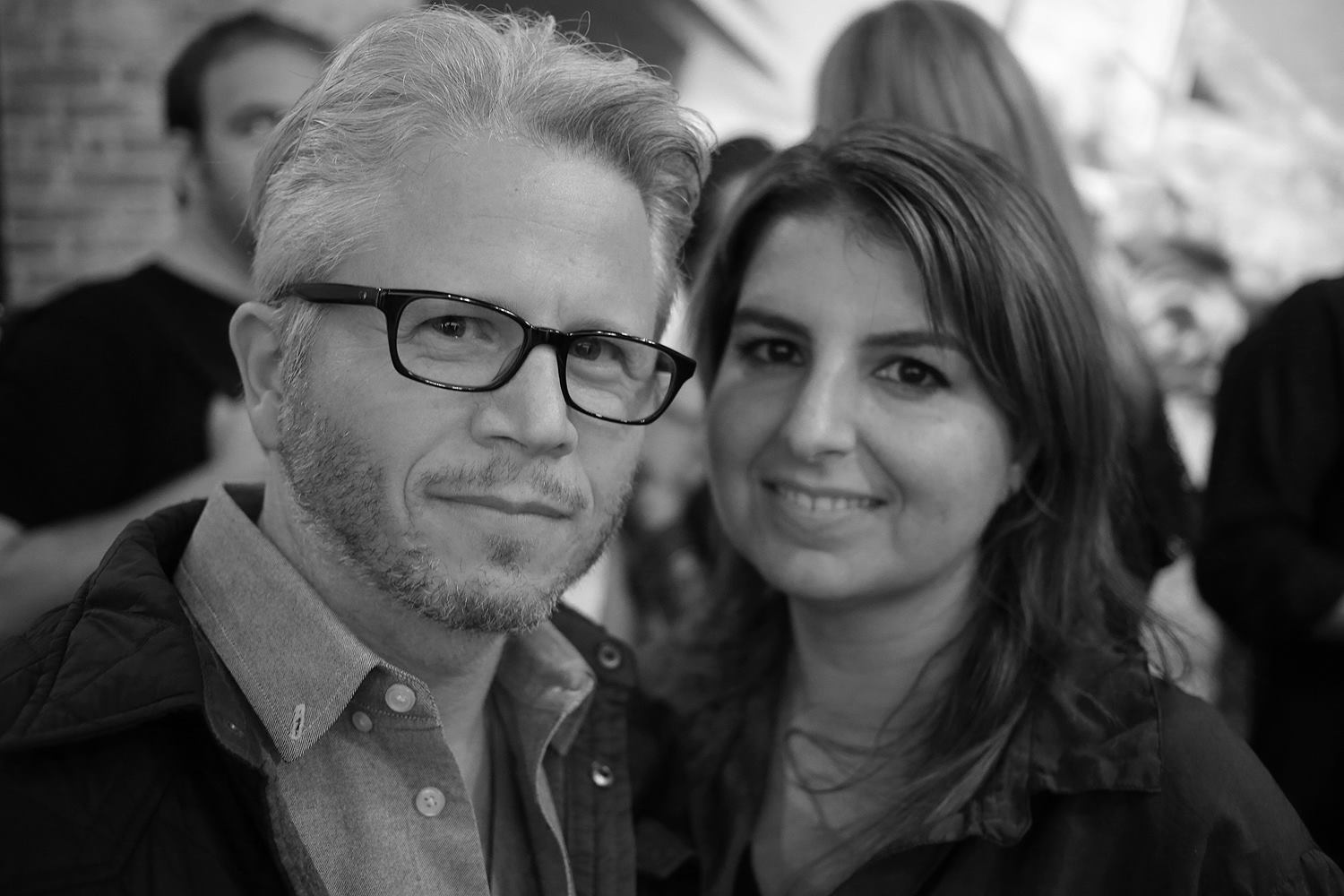 Photo by Eric Minh Sweson
We are Anna Mkhitarian Leighton (aka Annatarian) and Daniel Leighton, the artists and creative team behind Totisu. We have been collaborating together on projects at the intersection of humanity and technology for over two decades. Our passion for this unique blend has us pushing the boundaries of traditional artistic expression. Whether through digital media, installations, or interactive experiences, we strive to tell stories that challenge and inspire our audience to think about the world in new ways.
"I am driven by my passion for using technology in my work, my love for nature, fashion, robots, artificial intelligence, peacemaking, the theory of relativity, and the future. These interests serve as a constant source of inspiration for me, fueling my desire to create work that explores the fusion of the human condition and technology.
My art is a blend of traditional media and tech, resulting in unique pieces of art that I hope engage and inspire viewers.
I approach every project with creativity, awareness, a hunger for understanding, and a deep curiosity about the human potential.
My pieces often seek to answer fundamental questions about the nature of time, peace, and love, and I hope to inspire viewers to think deeply about these issues.
Whether working on a commission or developing a new series, I am dedicated to creating works that are meaningful, thought-provoking, and aesthetically pleasing."
Annatarian
"I use technology and emotion to create my artwork. I have a background in filmmaking and computer programming, which I use to bring my paintings to life with Augmented Reality. My art focuses on the complexities of the human psyche and how technology can be used to benefit humanity. My own experiences with Crohn's Disease have greatly influenced my work and have given me a unique perspective on making the most of life and what you have.
In addition to being an Augmented Reality artist and iPad painter, I am also a filmmaker and technologist. My art has been exhibited at various venues including the V&A Museum and Apple Stores and has been recognized by curators from institutions such as MoCA, LACMA, and the Getty Museum.
I am constantly seeking new ways to use my skills and talents to explore the intersections between art, technology, and emotion. I believe that through my artwork, I can help others better understand and connect with their own internal landscapes and the world around them."
Daniel Leighton
Annatarian
Fashion+Robots
Each of these are from their own series, contact us to see more
The Romantics
Contact us to see more from this series
One-of-a-kind 

Because

 You Are
Custom, One-of-a kind, Made to measure, Eco-Couture Dresses
Flowers of LA
Each of these are from their own series, contact us to see more
Palm Pop
Contact us to see more from this series
Angels of LA
Contact us to see more from this series
Daniel Leighton
Narrative Expressionism and Augmented Reality
what people are saying about us
"Daniel's brilliant use of digital platforms is simply formed and complete — personal and social commentary that illuminates his vision. Moreover, his works have been selected by key curators (including Getty Director Timothy Potts) for a series of highly competitive LAAA exhibitions."
"Your beautiful dress was a huge hit! People loved it! It sparkled on camera and my co-workers said it was the best dress I've worn in a dozen years covering the Academy Awards. And, I was comfortable! Thank you so very much"
The 2-dimensional, frequently large-scale prints are high-resolution to the point of luminosity. Their expressive color fields and wavering black line drawing are compelling in their own right; it's clear that in these prints, Leighton has used the special aspects afforded by the tech to enhance certain ages-old goals of painting and drawing. The tech is impressive, but to make good art with it, you still have to be a good artist."
"Grammy Lifesaver! Just a quick note to thank you for all your hard work, generosity and great last minute designs. You did a wonderful job. Thanks for going above and beyond and pulling it all together for me. I can't wait to have another occasion to call you for. This time…way in advance. Everyone loves the story of the two dress Grammy outfit. Big Kiss."
"Every time I look at Daniel Leighton's paintings, I gasp. I'm discomfited. I'm thrown off my center, right smack dab into the middle of the human condition whether I like it or not. And every time I have the same thought: "Now that is art. I am moved to my core.'"
"Anna designed my wedding dress and that was not a small feat. I am a journalist who has covered fashion shows in Milan, Paris, NYC and London and so I am very critical of design. Anna is the designer to watch!