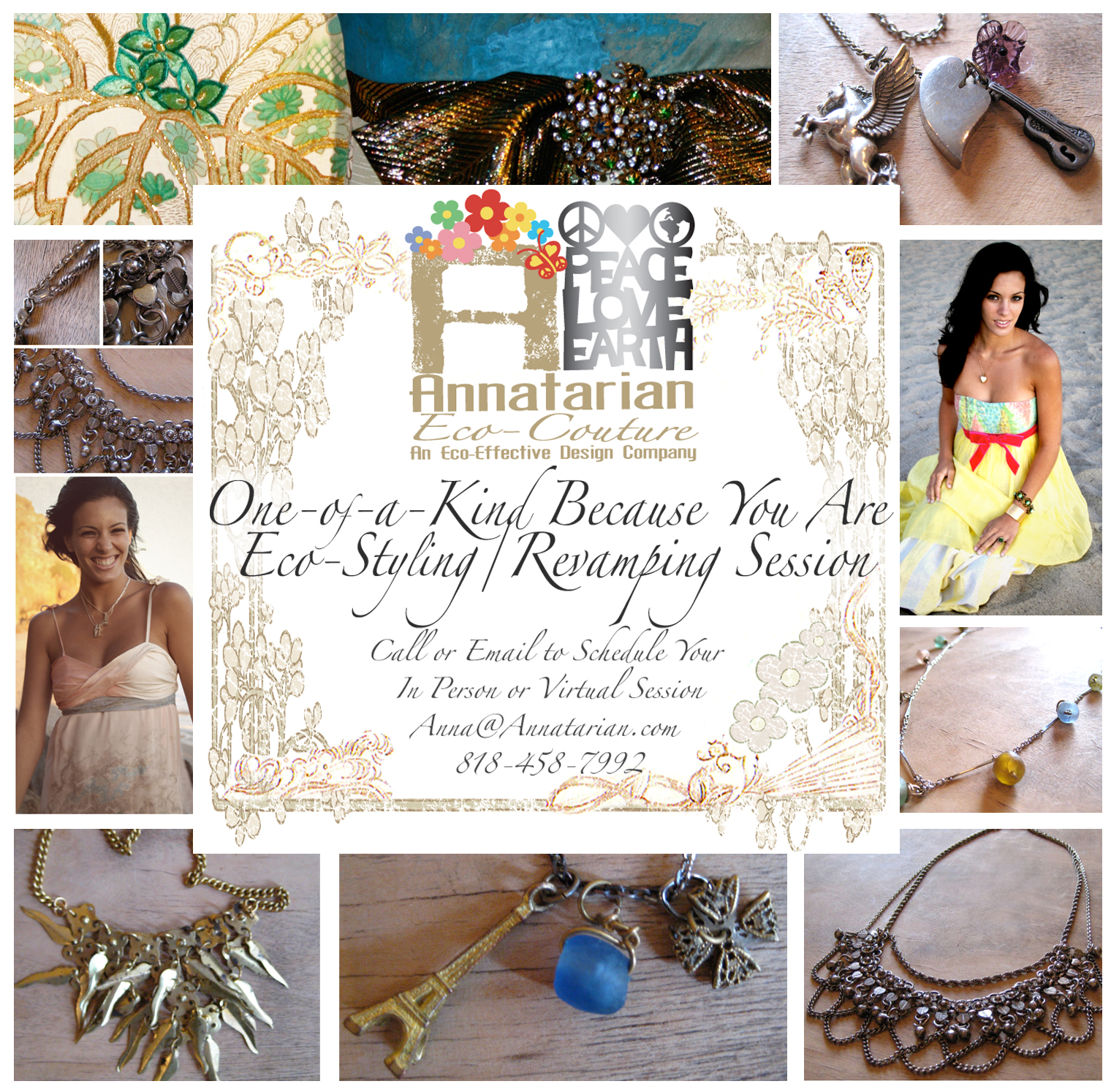 Annatarian's "One-of-a-kind Because You Are" Eco Styling Service
Look like a million bucks with what you already own, with
Anna doing it (ADI) just for you,
Or showing you how-
So you can do it yourself (DIY).
WHAT?
Anna has revamped, styled, and custom made dresses for many women over the years for red carpet events, weddings, and other special occasions, and knows how to make it work. Women have come to her with their tired clothes, accessories, even shoes and she has dyed them, combined them, beaded them and painted them into something totally fresh and really high end.
It is a great way to practice your eco-consciousness as Anna, your personal fashion designer, stylist and sage, transforms your possessions and can even teach you how you can do it yourself.
Come to her with your dresses, accessories that just don't do it anymore or have never done it- and she will revamp them into something that totally works. Not only will she change them to look better, but look better on YOU- just like she does with her couture dresses, she will accentuate your best features and make you shine!
You may be inspired to do this yourself and Anna will guide you in how to think about it and what to do.
She will help you think of your belongings in a different way-She may suggest you use those accessories on your shoes instead of hanging from your ears, or changing up a skirt  and wear it as a top instead.
Depending on your individual desires you may learn may how to dye, paint or even bead a dress. Or she will guide you on how to cut a dress, or combine it with another dress.
If you want to skip the DIY there is always the option of having Anna do it for you.
Do it as a private session or share the experience with some friends for a group rate.
WHERE?
Here, There, and Everywhere-
In Person at Anna's, At Your Place, or Virtually via Skype
WHO?
Individuals or Make it a Party! 
ADI (Anna Doing it) for you is available for Single sessions
HOW?
Simple!
TESTIMONIALS
"Anna Leighton is a fantastic eco designer and an amazing stylist too. I was invited to the CSI Miami Christmas party and bought an okay looking basic black dress. I liked the hemline and the sheer arms but something was lacking. Went to Anna's studio and she worked her magic, a few rhinestone embellishments in just the right places, some nips and tucks at the waist, a little lace up near my bustline and viola an off the rack dress looked custom made and I felt like a celebrity. She advised me on rings and bags and I received compliments galore."
"Nice to know that a regular gal can have access to someone as talented as Anna."
"Working with Anna is an experience that makes your soul sing. She not only gives old clothes new life but turns them into inspired wearable works of art beyond your imagination. Trust me – you will squeal when you see the transformation — and the best part is you'll feel transformed every time you wear them.
Anna is a rare talent – an artist at the top of her craft born to do this work. Every woman deserves an Annatarian experience."
"Anna is the MacGyver of fashion. I had bought a used H&M dress from Buffalo Exchange that fit great but the color sucked. Anna dyed it, painted it, and beaded it with crystals. She added two 0's to my $14 dress and made it look like a $1400 dress!"
"I came to Anna before a red carpet event with a long black ruffled skirt- and I don't know how she did it, but she transformed it into the perfect little black dress that fit me perfectly! My husband couldn't take his eyes off of me!"
"She has an innate way of tapping into who you are, and bringing out your best"
"Anna is a patient and creative teacher. She saw the artist in me when I didn't"
"When I looked into my mom's closet I used to wish all of her clothes were mine. I couldn't stand to see her throw out slightly damaged clothes. When I came to Anna with my moms old ripped and stained articles of clothing, she transformed them. I learned the skills to cover up stains by dying fabric and she helped me sew my moms old button down shirt into a skirt that I wear and love!"
"Her process of creating art is inspiring. She is a genius when it comes to making something out of nothing"
"Grammy Lifesaver! Just a quick note to thank you for all your hard work, generosity and great last minute designs. You did a wonderful job. Thanks for going above and beyond and pulling it all together for me. I can't wait to have another occasion to call you for. This time…way in advance. Everyone loves the story of the two dress Grammy outfit. Big Kiss."
"I am lucky enough to have been styled by Anna twice for red carpet events. I am a green girl through and through but I never had much fashion sense.  Enter Anna.  Anna styled me in the most beautiful creations.  The fist time I wore one of Anna's gowns I got stopped within 2 minutes of entering the event with someone gushing over the gown and it continued through out the night.  I had never experienced anything like that.  So I was thrilled when Anna styled me for a second event.  Anna not only had beautiful gowns for me to flaunt for a night but she also provided vintage jewelry, and purses, and  gave advice for the shoes and gave me suggestions and lessons for hair and make-up.  The lessons were the best; I've used the hair and make-up tricks Anna taught me numerous times since.  Until I master the sewing machine, Anna is my go-to for dresses.  It's a no-brainer, I get to wear amazing eco gowns that are always one of a kind and it costs less than buying a store bought dress that a thousand other girls own."
"Thank you so much for your work and help!  It was really neat to have another pair of eyes, who really saw how to put things together in a new way. Great meeting you!  I've worn two of the full outfits you help me put together. It felt great!" E.B. Santa Monica, CA